Portraits at an American Bus Stop
Somerville, MA, 2015
I do nothing, not much. I didn't want much when I was younger either. I had a son. It has been my greatest challenge.
Outside of work I do drugs. I had two years of clean time, but now I can't even get 6 months.
It happened when I was 15. Depression affected my life a lot and made my life difficult. I'd like to see myself become more independent. When I was younger I was really abused by my dad and I've blocked a lot of it out. I just want to be happy, and to make my son happy. That's all.
One thing I know: I pray to God. I am not saying that other religions will not be saved. Even Jesus Christ said that if you believe in Christ you gonna survive. There is a lot of people who doesn't know like - have you heard of Daniel 2:44 in the bible. So you don't read the bible? Its alright. There is a few people who doesn't. You believe in Armageddon, right?
Lately my biggest challenge has been watching people deteriorate from Alzheimer's and cancer. I don't ever think of my own problems now for the last year and a half. It is a hurting thing to see somebody's memories disappear and wash away in a matter of months, then weeks, then days. Then one day she don't know anybody. Sometimes you're afraid to answer you're telephone because you're afraid the nursing home is calling you and telling you she died.
I was 16 years old living on the streets. My mother and father were in disputes because she has cheated on my dad and they started messing and forgetting to pay the rent. So we all split up and I ended up on the streets. I went around bumping money off people for a while until I was lucky enough to pick up some work. I found little shelters, slept wherever I could. It went on for two and a half years. Out of all the memories from that time there was one time I talked another person in my same predicament from jumping off a bridge. That was pretty hard because it was a thought that I had had myself many times. It helped me believe myself and get those ideas out of my head. It gave me the chance to save the other guy and myself.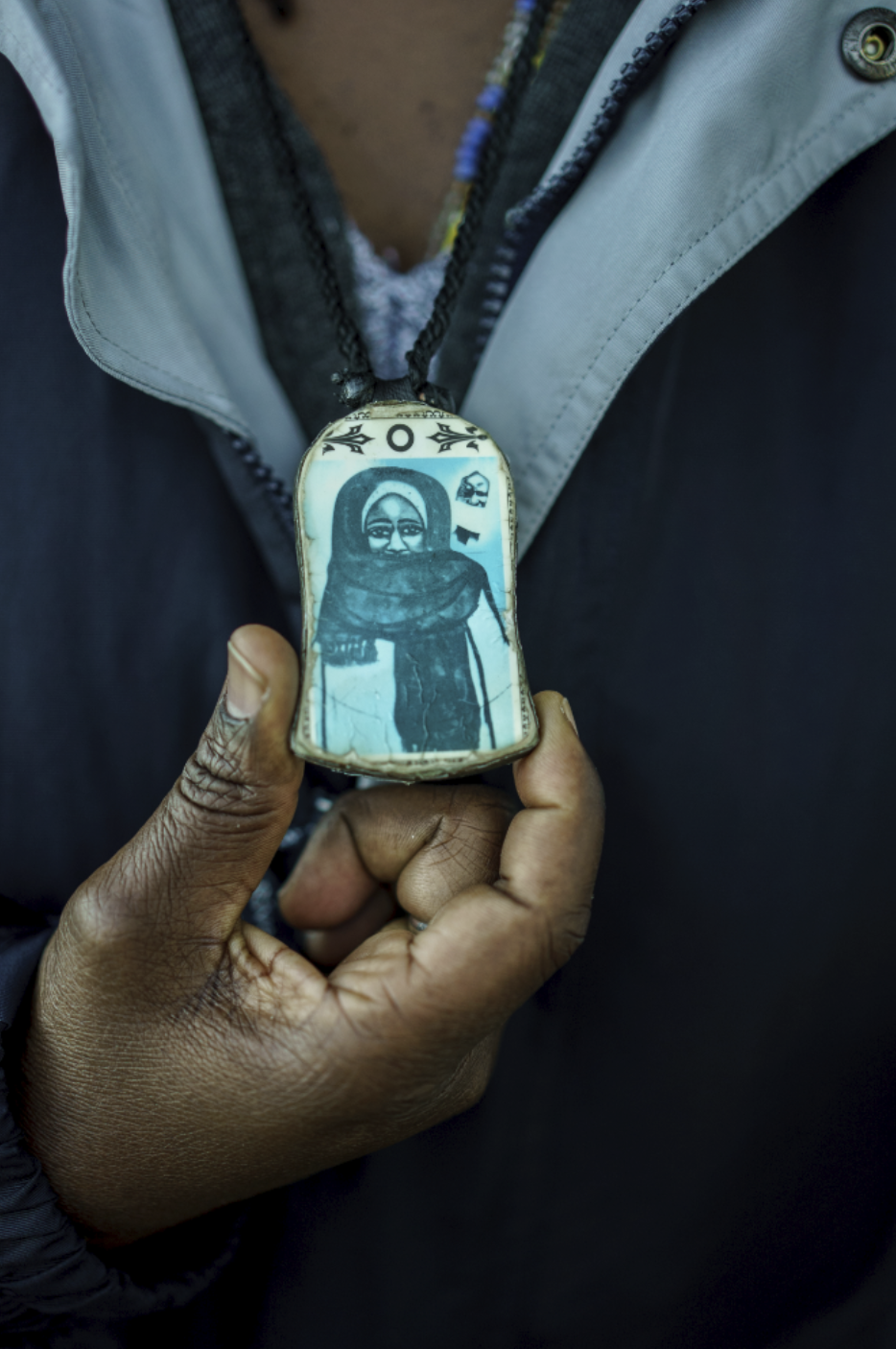 People think that when you're a police officer its the people you're arresting, and all that, thats what makes it hard. But its not. Its the people you work around. Officers are some of the worst criminals there are in the world, believe it or not. As you can kind of see now because they have to wear the cameras. They don't realize that they're just human like everybody else. I got out. I said, I'm gonna leave it because when year 2000 comes they'll be shooting at cops like a target. Mhm. I had three kids to look after, and it was just me. I take this job with a grain of salt, but my kids are more precious to me. That was one of the main reasons I left.
The name of this person is Mamjadabuso. She was the mother of Cheikh Amadouh Bamba. She represents peace, and love, and determination. I have been wearing this all my life. She represents what I believe in. Now don't ask me my name.
These hands can create anything.